Almost three years into living here and yours truly still can't keep track of time. Mom bought me a daily planner last year and penned in all of the important dates. While sitting in lush greenery and soaring temperatures under a blue sky and sporting a nice suntan, this Vermont resident was entirely stunned once again when the holiday season rolled around. Greeting cards went out via Federal Express on December 23rd. Then the author sat around waiting for it to snow and felt like she should chop some wood.
What is Christmas in Thailand like? For starters it is a commercial event with good cheer thrown in on the side for. Street vendors get their hands on piles of Santa hats (some with flashing lights) and also think that small plastic dancing Coca-Cola bottles go well with the holiday season. These bottles can be found boogying all over the city while being held up on plastic cafeteria-like trays.
All these initial warnings that Santa Claus was coming to town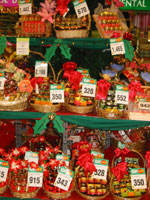 didn't manage to get me into the swing of things. I read emails about turkeys and gifts and received holiday best wishes. I sat in my house realising that Christmas was around the corner and proceeded to do my shopping on the 24th.
I arrived at 'Big C' along with about five gigantic tour buses ('Big C' provides free transportation to the store from factories outside of the city, very clever.) I proceeded to shop along with an explosion of Christmas lights, decorated trees, tinsel, Happy New Year's signs and people.
The store stereo kicked it off with 'I'm Dreaming of a White Christmas', plowed into 'Let it snow, let it snow', moved on to a reggae version of 'Silent Night', rocketed into 'Joy to the World', eased into 'Frosty the Snowman', sang about winter wonderlands, wished us all a Merry Christmas and boasted that Santa Claus was coming to town. Then the tape loop ended and it all came around again.
I managed to put two bottles of wine, one remote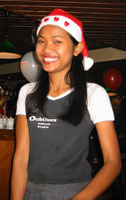 control car, some children's books, five rolls of wrapping paper, a roll of scotch tape, two strawberry yogurts and three greeting cards in my cart. Fellow shoppers took the opportunity to glance at what a foreigners' 'real' Christmas buy looks like. Whoops. As someone who can't stand shopping and has a 20-minute attention span for it, I think I did quite well.
Thailand is fond of gift baskets that come in a wide range of prices and contain items that I find quite pragmatic such as crackers, coffee, jam, juice, peanuts, fruit, condensed chicken broth and whisky. Other down-to-earth gift ideas include blankets, clothing, flashlights and shoes. Small plants, neon stickers, balloons, small stuffed animals, key chains and other trinkets are also popular purchases and gift wrapping counters are a hive of activity.
Although Christmas is not an official holiday for Thailand, December 25th found downtown Bangkok jam-packed with fun-seekers even though most had to head into work the next morning (some with aching heads, I am sure.) Christmas office parties are popular events, occur somewhere between November and January and often involve a karaoke machine.
Christmas is kept mainly to shopping centres, private parties and restaurants serving special holiday set menus. Groups of people gather together, yell ho-ho-ho, wear Santa suits, exchange gifts and engage in heavy eating and establish a merry oasis of holiday cheer.
Despite blasting carols, flashing trees, sales promotions, exotic dinners filled with food that Mom always cook better herself and people wearing reindeer antlers on their heads, Christmas barely manages to stand out. Perhaps this is because there are enough things happening in Thailand that are out of context, completely unexpected and utterly bizarre to the western eye. Therefore if Santa ever does manage to come flying through my front gate, I doubt I will bat an eye. Christmas in Thailand is like no other you will celebrate.
I spent Christmas with about 40 other people at an Irish pub. After an excellent meal, a gift raffle, a few drinks, lots of flashing Santa hats, many bottles of silly string and Christmas carols to boot, everyone was filled with the holiday spirit. We may have thought for a moment that we had somehow made it to the North Pole but a glance outside of the window revealed Bangkok carrying on its normal business. Nevertheless, we successfully created an out-of-the-ordinary holiday island of sorts (and reveled in it).
I still find life in Thailand wonderfully strange and celebrating Christmas here really took the (fruit) cake. As Thailand gears up to ring in 2002, I know to expect the unexpected. I have no idea where I will be but I am certain to have one heck of a uniquely good time. P.S. Happy New Year!