While you are out strolling through the city of angel's you will inevitably get stuck behind a bus that will dutifully spew black fumes into your face. Most people start holding their hands over their mouths in the futile effort to improve the situation. I usually wish for an abstractly long snorkel that will reach high above the black clouds. Perhaps I should even invent one. Truth said, no matter how much you love Bangkok, sometimes residents and tourist alike just really need to escape.
Weekend getaways into the countryside are not always possible but there is a small island of refuge and peace waiting for you and it's not far away. Sitting in the middle of the Chao Phraya River a mere 25 kilometres north of central Bangkok is the small island of Ko Kret. Fresher air, auditory relief and serene scenery are waiting.
Tranquility and low-rise buildings give Ko Kret a very down-to-earth, slow-paced feeling and makes it a great place to chill out for an afternoon.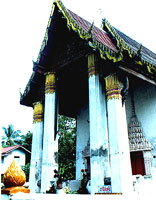 This island is worlds apart from the metropolis lurking a bit south of it.
One of the best things about Ko Kret is that cars are not allowed on the island. Instead bikes, motorcycles and pedestrians weave their way through narrow walkways making for some tight squeezes, especially on weekends. If you hear a bicycle bell ring or the hum of an engine, step aside quickly.
There are about 7,000 residents living on Ko Kret, many of whom are of Mon descent. Mon people are of Indo-Burmese origin and their cultural influence on the island is still significant. They first came to Ko Kret during King Taksin's reign (1768-1782). Ko Kret represents one of Thailand's oldest Mon settlements and their language and traditions can still be seen throughout the island.
Ko Kret is famous for producing beautiful and ancient-style terracotta Mon pottery, jars and flowerpots. Kilns and artisans at work are scattered along the pathways. Feel free to walk in and check out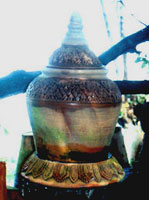 the action or visit the island's pottery museum. Looking at the banks of the island will not only reveal an overwhelming amount of garbage, but also many a broken terracotta pot that has been tossed into the river.
Ko Kret is host to several spectacular Mon-style temples and pagodas. In addition to Wat So Thong Thong and Wat Phal Lom, another well-known temple is Wat Paramaiyikawat (also called Wat Mon). This temple still keeps Buddhist scripture in the Mon language and is host to a large reclining Buddha, gorgeous mural paintings (recently restored), and a sinking, slightly-lopsided pagoda on the northeast tip of the island.
The island boasts an enormous number of food stalls and restaurants. Views of the river can be enjoyed while having a cool drink and enjoying a nice river breeze. There is a man who has recently set up an adorable bamboo-style caf? and has decided to sell tea only. I'm not sure about his business sense, but his shop is huggable.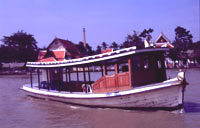 Ko Kret is a popular shopping destination for locals and is becoming increasingly popular with tourists. From kitsch to kitchenware to earthenware, market stalls and small shops abound and prices are reasonable. Truth said, I was trying to keep Ko Kret a secret for myself but it seems to be too late. I would recommend visiting during the week if you want to escape the crowds. Many of the shops are closed but the island becomes infinitely quieter and even more relaxing.
My favourite place to visit on Ko Kret is the reclining Buddha at Wat Paramaiyikawat. The Buddha image inside is particularly stunning, as are the intricate details of the windows, doors and ceiling. You can also choose to have your fortune told by taking the wooden cup in front of the altar and shaking it until one of about 30 bamboo sticks falls out. Each stick has a number on it with a corresponding fortune sheet at the entrance to the temple. My last fortune told me, "Bad omen foreseen. Refill oil to the lamps at this place and unfavourable situation will be alleviated." Well, I couldn't find any oil lamps to refill and am hoping for the best.
To get to Ko Kret you can drive to the town of Pakret in Nonthanburi province and then take the river ferry across at Wat Sanam Nua (for a whopping 2 baht each way.) Another option is to take Laem Thong's boat service at the Nonthaburi Pier up to Ko Kret or hire a long tail boat for a faster and bumpier ride all the way up the river. Whether you are interested in shopping, eating, learning about an ancient culture, chilling out or a taking a nice stroll, Ko Kret is a wonderful escape. You might even spot me there if you are lucky.