Getting in a Bangkok taxi may sound like a simple and relatively boring thing to do but nothing could be further from the truth. Flag down a cab and proceed to expect the unexpected. You can never be sure where you'll end up or even if the driver has ever driven in Bangkok before. I have also never been in a taxi that was in good mechanical condition. Ever.
Dragging mufflers, loose shock absorbers, overheating engines, slipping clutches and U-joints that are about to explode are truly the norm. In my younger years I used to help my brothers and father fix cars. Honestly said, I am quite good at car diagnostics. That only means more fun for me on a Bangkok taxi ride.
Some drivers know about shifting gears but most seem to prefer to do it as little as possible. Nevertheless, every ride I have been on regardless of the near-death experiences or missed destinations they have caused me has been wonderful, even when they have been horrible.
One 3-a.m. ride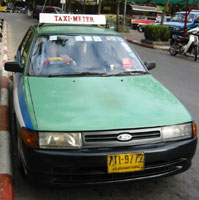 left me cruising along with a highly energetic driver who laughed hysterically for the whole ride between snippets of conversation. The stereo was blasting static mixed with Thai pop. I was laughing back for kicks. Everything was beyond cheerful until we reached my dark and desolate street with its scary banana grove on one side.
"No way I am driving through here. There are too many ghosts!" It took over five minutes of encouragement before he continued. I had to show him a different road out. No way was he going back down that street without me in his car. He was more fun than all of the events that had culminated my late return.
Yet another interesting ride was when a friend and I attempted to get downtown from north of the city by taxi (which means we had to head south.) "Yes, yes! I understand!" said the driver who had probably just arrived from upcountry the previous day, rented a taxi, and hoped he would miraculously strike it rich. Off we headed at 120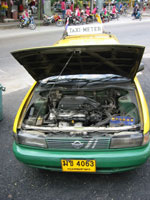 kph on the super expressway to Ayutthaya (wrong direction, north!) We finally demanded to be let out.
There we stood, roasting on black pavement. We proceeded to walk and walk. Hours later we made it off the elevated highway feeling like we had crossed a tar-matted Sahara. We were pleased as we hadn't gotten run over or fined for being up there. "Much more fun than visiting the Grand Palace!" my friend who was visiting from Switzerland joked.
A more recent drive found me next to a cheerful old man who proclaimed, "My cab is not well enough to make the drive downtown." He then proceeded to bring me to another cab in worse condition than his (free of charge.) Off I went in Bangkok's ultimate rattrap. The engine sounded like it was stuck in second gear and we were losing a shock absorber along on the way. We never made it past 65 kph but still managed to almost have a few bad accidents along the way. I was convinced the engine would explode at any minute. We both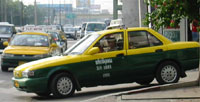 pretended that nothing was the matter with the car. I arrived (in due time) at the correct destination and proceeded to give him a nice tip for the unknowing entertainment he had provided.
It is not only the taxis themselves that are unique. Every taxi driver has his own customer/client attitude. (I haven't seen a female taxi driver so far.) Some open the door for you. Others ignore you and start driving while you are still half way out of the car. Many simply flat out refuse to take you to your stated destination. Some plot on how to make the taxi ride as long as possible while others think they are being televised live on Formula One. Taxis can range from meticulously clean to battered, tattered, stinky and sticky.
Different drivers decorate taxis in different ways, but everyone is guaranteed to have an air-freshener. Taxi decoration can be non-existent or can be an ornate Buddhist shrine on wheels. Taxi windows can be forty-five percent covered in stickers of famous Buddhist monks and temples, clean as a whistle, fogged up or coated with a slick of rain. Windshield wiper use seems up to the mood of the driver.
Taxi rides can and do drive people crazy. Stuck in traffic, heading in the wrong direction with the meter running, or hurling down the street at two pedestrians and a cement truck leaves passengers on the edge sometimes. I choose to make the best out of every ride. To all of those Bangkok taxis and the drivers behind the wheel: Thanks, I can't wait for my next ride.