Thailand's streets are bursting with a plethora of goods for sale, almost none of which possess a price tag. This means that getting a good price for both Thai people and visitors alike involves bargaining. When I first moved to Thailand, I detested it. Over time I have come to be adept at it and actually enjoy haggling now. Bargaining is part of the Thai shopping experience. Price tags can always be found in shopping malls if you get lonely enough for them.
Some visitors to Thailand find things quite cheap and don't bother to bargain. Others don't like to bargain, period. Many enjoy it. I don't know anyone who lives here who does not bargain. Especially when you are living on local wages, negotiating prices down by can make a gigantic difference at the end of the month.
Keep in mind that 200 baht (US$4.44) an hour is considered by most to be a very good salary. Many people in Thailand make 200 baht a day, if they are lucky. The most important aspect of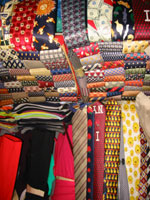 bargaining is having a rough idea of reasonable going rates but this takes some investigation and time to figure out.
Thailand is a well-known shopping paradise and good bargaining skills can make it even more so. If you get off the tourist trails, prices come down drastically and starting prices become more reasonable. Staying friendly and polite while haggling is a key to success. Even if the first asking price is insultingly large, it is important to stay calm. Knowing when to stop arguing over price is another factor. Pleasantly bickering over a few cents for more than a short second is considered rude.
Different vendors have different temperaments and pricing strategies but all of them keep calculators on hand, the most universal language of all. Some offer great deals right from the start meaning that sometimes there is no need to bargain at all. Returning to the same vendor again and again is another way to get even better prices.
It is also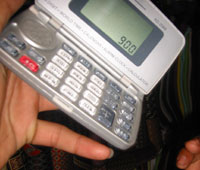 good to keep a poker face on while out shopping. The more infatuated you seem with an item the higher the likelihood of its price rising. But if you see something you really want, it is best to buy it then and there. Street vendors come and go. By the time you make up your mind, they may have moved to the other side of town or you simply might not be able to remember where they were in the first place (this happens to me all the time).
I recently spent an afternoon investigating the pricing systems on the streets of Bangkok. I first went to various stalls playing the part of a tourist. I was armed with a tour guide of Bangkok, a backpack, camera and a bottle of water and I spoke only in English. I proceeded to ask the price of common souvenir T-shirts and clothing.
T-shirts started at 180 baht (US$4) and went down to 140 baht (US$3.11) with a mild amount of bargaining on the T-shirts. Shorts started at 350 baht (US$7.77) and went down to 300 baht (US$6.66). Silk
ties held strong at 120 baht (US$2.66) but a 20 baht discount was offered if I bought five.
Heading on to similar vending stalls with tour guide and camera safely tucked away, I then investigated the same items using my basic Thai. T-shirts started at 120 baht (US$2.66) and went down to 100 baht (US$2.22). Shorts started at 200 baht (US$4.44) and came down to 150 baht (US$3.33). The ties fell to 60 baht (US$1.33).
I then sent a Thai friend along to do the same. T-shirts came down to 90 baht (US$2), shorts fell to 100 baht (US$2.22) and the ties were 40 baht (US$0.88) each. In summary, when I shopped using basic Thai prices came down 45% from 'tourist' prices. My Thai friend was able to reduce them by 59%.
Although the percentage saved may not always be so large, it illustrates that bargaining can go a long way. It is a known fact that foreigners and expatriates commonly get charged more than Thais no matter how fluently they speak the language, a fact that infuriates some and others accept.
The pricing system is based on the fact that almost all Thais believe that foreigners and tourists have more money than the locals and can afford to (and should) share it. It is a controversial point of view, especially for those ending up with the bigger bill, but it is a fact of daily life in Thailand at the end of the day as is the need for good bargaining skills.