From kites to fruit to furniture, the roadsides of Thailand are always filled with people trying to sell their vast array of wares. On a day where temperatures were soaring into 40 degrees Celsius (104 degrees Fahrenheit) in the shade, I spotted a wicker basket vendor on the side of the road and decided to stop.
Sitting in a small plastic chair in the shade of some trees was a woman named Katin. She seemed more than happy to chat, perhaps to alleviate boredom. I figured she was hoping to sell me some baskets at the end of the discussion.
Katin is 49 years old and is from Korat. So are her wicker baskets. Korat is 250 kilometres away from Bangkok in northeastern Thailand, a region infamous for its poverty. Her family still lives there. She is still married but her husband left her. She is the mother of one son (24) and one daughter (22). They both attended school for six years. Her son sells baskets in Korat. Her daughter is married, has one child, and does not work.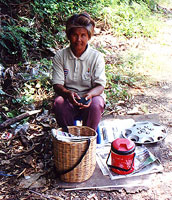 Katin travels between Bangkok and her home town, spending 14 days in the big city and 7 days back in Korat on average. Katin works on commission. She states, "the baskets do not belong to me. If I sell 1,000 baht (25 US Dollars) of baskets, I get to keep 100 baht (2.50 US Dollars)." At 3:30 p.m. she had sold a total of 300 baht in wares earning her a meager 30 baht so far.
When I asked her how much money she can make in one day she said, "I do not know. Sometimes I make 400-700 baht (10-17.50 US Dollars) a week." This means she makes between 57-100 baht (1.43-2.50 US Dollars) per day. She says she needs 60 baht (1.50 US Dollars) a day for food. Basically Katin works just to feed herself: 7 a.m.-5 p.m. Monday-Friday and 7 a.m.-6 p.m. Saturday-Sunday.
Her employer provides free transportation for Katin and her baskets both within Bangkok and when she returns to Korat. She does not have a fixed area in which she sells. From the famous tourist vending corners to the less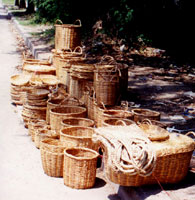 known neighbourhoods, Katin simply hopes for the best each morning.
On the weekends, she works at the gigantic and well-known Chattachuk Market. She gets dropped off in the morning, picked up at night, and returned to her one room apartment that she shares with other basket vendors. Her boss pays the rent of 700 baht (17.50 US Dollars) per month.
The small baskets sell for 60 baht. She makes 10 baht on the sale. The large baskets sell for 150 baht, giving her a 30-baht profit. When asked why she has this job, Katin stated, "I have no schooling. I cannot get a better job. I only went to school for two years, but I can read and write." In fact, she had brought along a newspaper, a pair of reading glasses, a chair, and a small food cooler to keep her company through her long day.
Katin does not know how much the people who make the baskets by hand earn. When asked if her boss is rich she said, "I don't know. Business is slow. We can't sell the baskets."
When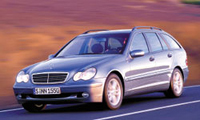 asked if she likes her job, Katin stated, "I don't like my job. It is really no good. I can't make any money." I asked her what she would do if I gave her 5,000 baht (125 US Dollars). Katin replied without hesitation. "I would buy food. I would buy a lot of rice. I would buy some things for my granddaughter."
When asked what she likes to do for fun, Katin stated, "I don't know what I like to do for fun. I work all year long." Sitting in front of Katrin was a hubcap for a Mercedes. She had found it that morning and put it in front of her chair with the rest of her things. I asked her, "what will you do with this hubcap?" and she stated, "if someone wants to buy it, I will sell it."
I stood in the blistering heat absorbing this information for some time. I contemplated buying baskets for everyone I know. They were quite nice actually. Then I realized that buying one or even six would not benefit Katin much. Instead I paid her for the interview, much to her surprise and delight.
I said goodbye to Katin with the bleakness of her situation hanging over my head like a cloud. What about retirement? Health care? Labour laws? What happens on the days when she does not sell any baskets and can't even afford food? The worst job I ever had in my life pales in comparison.