I would like to share with you one of Thailand's most overlooked but truly wonderful establishments: the country saloon. This is where many Thais head off to for a night of drinking, live music, and fun.
Country saloons are usually a bit off the beaten track. They have a real Thai countryside feel to them. The interiors are usually wooden and have a barn-like style. There is a 'hippy-like' atmosphere and live music can always be found. The night starts out very quietly and usually ends in a dancing frenzy. Especially on payday weekends, these pubs are jam-packed.
Country saloon music usually kicks off at around 7:30 p.m. with a solo acoustic set, moving on to one or two other traditional performances with a four- or five-member band, and ending with a more modern and very plugged in performance at the end of the night. Things usually come to a close at around 2 a.m., when an unpredictable DJ will play anything imaginable.
Until the DJ takes over, there are three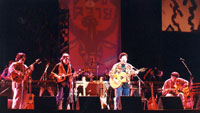 main categories the music will fit into: 'Songs for Life', Laotian music, or Thai pop music mostly from the 80's. The most popular 'Songs for Life' bands are 'Caravan', 'Carabao', and 'Kamphie.'
The group 'Caravan' created the 'Songs for Life' style in the 1970s. These songs address and celebrate the life of the common Thai person, hence the name. 'Caravan' addressed social and environmental issues in a non-direct way and supported communism, thus getting them banned by the Thai government for a while. It is still possible to catch the group 'Caravan' on an occasional tour. Their influence on popular Thai music remains immense.
The legendary Thai group 'Carabao' is the second-generation 'Songs for Life' band. They created a western rock/metal-'songs for life'-Thai classical music fusion sound. This band has been recording for over 20 years and still has an amazingly busy tour schedule.
'Carabao' is currently the most popular band of this type in Thailand. You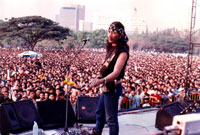 can hear their songs being played everywhere and most everyone knows the words, although sometimes they will not admit it. Despite their popularity, many Thais disagree with 'Carabao' lyrics and 'good boys and girls' do not attend their shows. 'Carabao' songs address modern social problems and often talk about history and falling in love. They have even dedicated songs to a governor of Bangkok and a Prime Minister. 'Carabao' is also famous for an occasional scuffle in the audience during their live performances. Band members like to ride Harley Davidsons and look 'rough and tumble' but also own an impressive fleet of Mercedes and Land Cruisers. They are currently advertising for a local beer called Chang (elephant). The logo is 'My Country, My Beer' but 'Carabao' prefers to drink red wine on stage. Despite their contradictions, these guys rock hard.
If you ever see a sheet painted with a gigantic buffalo skull hanging outside a pub, it means that 'Carabao' is coming. Be sure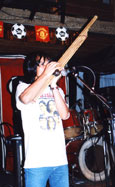 not to miss it! The band does not kick off until midnight to 1 a.m. and you usually have to reserve a seat weeks in advance to get in. 'Carabao' is well worth the wait. This group of highly skilled musicians will rock the crowd into an absolute frenzy and the guitar solos will knock your socks off.
The third-generation 'Songs for Life' singer is the baby-faced man named 'Kamphie.' Trained and inspired by leading guitar man Lek from 'Carabao', 'Kamphie' is pretty much a direct spin-off from 'Carabao' both in sound and text.
Cover bands playing at country saloons will usually mix 'Songs for Life' with a tad of Thai pop and Laotian music. Laotian music was brought into popularity by the migration of Lao people into Thailand and the fact that eastern Thailand shares its border with Laos. Laotian music is played with a variety of bizarre reed instruments and can range from the quiet acoustic set to faster bouncing and bopping rhythms.
In general, Laotian music has a happy and energetic sound and most people absolutely love to dance to it. Dancing to Lao music involves rotating your hand in a circular motion to the beat of the music while also keeping rhythmic time with your feet. Laotian music generally speaks about rice farming, flirting with each other while farming rice, and falling in love.
Country saloons make for a wonderful evening out. Besides being a unique cultural experience, the amazing wealth of musical talent in Thailand (both original and cover bands) showcases itself well at these establishments.
Thai food and reasonably priced drinks are always available. If you buy a bottle of whiskey and do not finish it, they will store it at the pub for you until next time (this is bar protocol all over Bangkok) but I bet you will return anyways on your own accord.