Thailand offers a wide range of hotel options. From the cheap guesthouse to four-star splendor, there is something available for every wallet. Prices range from 70 baht (US$1.59) to 92,400 baht (US$2,100) within Bangkok and levels of service, splendour and cleanliness vary accordingly. Thailand has a reputation for excellent customer service, especially at the nicer hotels. Even if you are not staying there, some of Thailand's hotel lobbies offer a nice oasis to relax in.
Jen Fuengraya is a 35-year-old hotel manager working at one of Bangkok's nicer hotels on Sukhumvit Road where rooms start at 2,950 baht (US$67). He has been married for nine years and is the father of a 9-year-old son. Jen originates from southern Thailand where he attended technical college for five years to become an electrician.
After finishing school at the age of 22, he went to live with his aunt in Switzerland. "I went there to help her in her house and to learn French and English in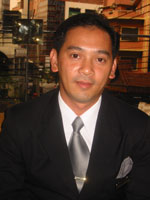 Geneva. My aunt has lived there for 30 years. When I stayed with her, she and her family only spoke English to me. For the first few months it was very difficult. I had learned some English at school but I could not really speak. Then I realised how important English was and I started remembering things from my school days."
He later returned to Thailand and was soon hired to work as a receptionist at his present job. "I got promoted step by step. Next I was coordinator, then chief receptionist. Eventually I became assistant front office manager. After eight years I left this job to go work on a cruise line in Europe. I worked ten hours a day, seven days a week in the linen department for US$1,200 a month. We could get off the ship for a few hours each afternoon when we were at port. The ship sailed from France to Miami, Florida. It was an American company. I had to speak English with the other staff. I kept this job for about one year but left because I missed my son," he explained.
After returning to Thailand again he found a job for five months at a different hotel but soon returned to his former job. He stated, "I have been working here since January 2002. I work from 2:30 p.m.-11 p.m. six days a week. I like my job and I know this hotel well. I earn 20,000 baht (US$456) a month and have seven days a year holiday in addition to public holidays. I also have insurance. I can pay all my bills."
Jen lives 20 kilometres from his workplace and rides the bus 90 minutes each way. He lives with his wife, son, and mother-in-law in a house owned by his wife's family. The house is air-conditioned and also has a TV and stereo. "I don't own a car and I don't want to, but I have owned one in the past," he told me. It costs about 6,000 baht per month (US$136) to feed his family. Electricity bills average about 1,000 baht (US$23) per month, and water bills 250 baht (US$5). When asked what he would do if hypothetically given 5,000 baht (US$113), he said, "I would put it in the bank and use it for an emergency."
In his free time, Jen enjoys drinking and singing with his friends. He occasionally also likes to take trips to the beach. When asked what the biggest difference between foreigners and Thais is, he stated, "Thais are not so outgoing as foreigners. They are shy to take action but this is not the case so much in Bangkok. Bangkok is not real Thailand sometimes. People come from upcountry to find work here and end up doing things that are not from their original personality, like with the bar girls. They don't have an education to get a good job. I understand this problem but this industry gets bigger and bigger. The women have no choice and no one can stop it."
When asked about his future plans, Jen said, "I would like to have my own business. I would like to be a travel agent and provide transportation. This is for later on, not now. I'm still thinking about it."
Jen is a clever and well-spoken man who has gone far due to his hard work and language skills. He enjoys his job and is content with his life. If given the chance, I am sure he will go even further. I wouldn't be surprised at all to find him running a successful travel agency in a few years' time.