There are herds motorcycle drivers waiting at almost every corner in Bangkok. They will zip you away, weave you in and out of tailgates, and head against traffic for a very low price and at a very high speed.
I have only ridden a motorcycle taxi one time in downtown Bangkok. I feared for my kneecaps and my life. In my smaller and less chaotic neighborhood I almost always take a motorcycle taxi to my local grocery store. It is fun, it is cheap, and I get to experience a great variety of driving styles. A ten-minute ride costs seven baht (17 US cents).
It was at my local grocery store where I caught up with a 25-year-old motorcycle taxi driver named Anan. He lives in my village in a small one-room apartment with his wife Wanna (26) and his one-year-old son, Natapong. He has been married for two years.
My neighbourhood has a disproportionate number of motorcycle drivers in relation to the population. This makes the competition stiff. Outside of my grocery store the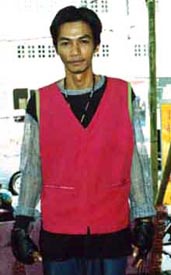 pink-jacketed drivers and the green-jacketed drivers wait and holler and hoot to attract customers. Each group forms a line and each member waits their turn for a customer. Most drivers chat, snack, play checkers, or joke around until it is their turn to earn some money.
Every motorcycle taxi driver has their own coloured vest and number assigned to them. These vests give the driver the right to operate on a given corner and are sold at variable prices. Anan's vest cost 5,000 baht (125 US dollars) and has the number 43 embroidered on it. Some of Bangkok's street corners are virtual gold mines, with the drivers never having to wait for customers. These vests can cost more than 100,000 baht (2,500 US dollars). If a driver decides to move on to another job, he finds someone who wants to buy his vest.
Anan has worked as a motorcycle taxi driver for almost two years. He originally worked as a repairman after finishing school at the age of fifteen. He now begins work at 6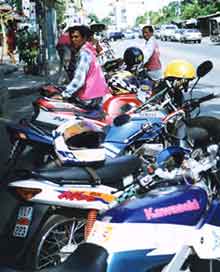 a.m. and finishes at 10 p.m. He waits between fifteen minutes and one hour for one customer. If it is a very slow day, he goes home. Anan makes about 250 baht a day (6.25 US dollars) and pays 80 baht (2 US dollars) of this for gasoline. This leaves him with about 5,100 baht a month as income (127.50 US dollars) for 16-hour workdays with no vacation.
Anan pays 1,500 baht (37.50 US dollars) for his small one-room apartment that has no air-conditioning. He has a television and video player, which he bought on monthly installments. He is proud that they are both paid off now. He has no phone or stereo. His electricity costs about 300 baht (7.50 US dollars) a month. He bought his second-hand 150-cc Honda motorcycle on credit one year ago with a 5,000 baht (125 US dollars) down payment. He pays 2, 500 baht (62.50 US dollars) every month on installment
His wife Wanna has worked as a flower vendor for the last ten years. Their son comes to work with her from 7 a.m. until 9 p.m.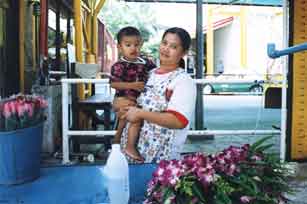 outside the grocery store. It is unclear how much money she earns. A crowd of about twelve people had gathered around us during the course of the interview and he seemed reluctant to give a straight quote on her income.
Since the interview, I have noticed that there are many days when her flower stall is closed. The family needs about 6,000 baht (150 US dollars) a month for food according to Anan. I believe this is roughly his wife's income.
Anan says he enjoys playing football and snooker. I asked him what he would do if I gave him 20,000 baht (500 US dollars). He replied, "I would put it in the bank for my son's future." This is obviously a couple who is scraping by, pinching their pennies, and hoping that their son will be the one to pave a brighter future for the family.
When I asked Anan what he thought about foreigners living in Thailand, he said, "There are good foreigners and bad ones just like there are good people and bad people everywhere. The good things about foreigners in Bangkok are that they spend a lot of money, especially the tourists. They can teach Thai people many things. Foreigners are smart. The bad thing is that foreign men like to take Thai women as girlfriends or wives and sometimes they are not very nice to them at all."
Anan intends to keep working as a motorcycle driver. His dream for the future is to get out of Bangkok and return to the countryside north of the city in Nakhon Sawan. He would like to work as a motorcycle driver there. It was clear he found it strange that I would be interested in his life at all.