Muay Thai sparks the imagination of people around the world and is the reason more foreigners than you think come to Thailand. (See back issues: Muay Thai 21 Oct 2002, http://www.bangkokpost.com/kat/archives/211002a.html) The chance to train at a muay thai camp, learn the ultimate martial art and become fit as a fiddle holds immense appeal all over the world. For Thais, however, it may be one of the few life options they have.
I recently spent two evenings at a respected muay thai training camp in northern Thailand (see Lanna Muay Thai Boxing Camp, 4 Nov, 2002: http://www.bangkokpost.com/chiangmai/attract/041102_attract01.html), where I had the chance to interview three boxers after they had finished their strenuous evening training routines.
There are a total of about 30 boxers training at the camp at any one time including Thais, foreigners, men, women and children. Three brothers are residents of the camp and I spoke to two of them regarding their experiences.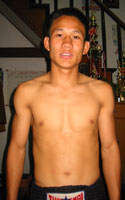 Choun (age 23) and Somphong (age 16) have been training for the last eight and five years respectively and are happy to do so. They explained, "They (the owners) give us money and let us go to school. It is not like this at many of the other camps."
Their parents live outside of Chiang Mai and although the boys are still close to their family and visit them a few times a month, Somphong explained, "They don't have any money. With muay thai I can fight, get money, and go to school. I don't want to be a farmer. At the end of the day you are more tired than when you are a muay thai boxer and you have no money. I can fight one or two times a month and get 1,500 baht each time. I buy books, shirts and shoes." He is currently studying Computer Science. "I like it so much! In the future I would like to be a policeman or go to England and have a computer business or be an accountant. If I make a lot of money, I'll give it to my parents."
Choun's plans are quite a bit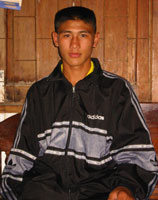 different from those of his brother. He has already spent one year in China teaching muay thai at a university. "I broke my hand two times fighting already, so I don't think I can be a champion anymore. I won two belts in Northern Thailand competitions. I want to teach muay thai in the future. As a muay thai teacher, you get a lot of respect. But I did not like my time in China." Choun is not currently in school but is considering going back to continue studying marketing.
Both boys enjoy watching TV, playing football and viewing muay thai videos. They have Sundays off. Jono is a 22-year-old Englishman who was training for the fourth time at the camp. He's been studying muay thai for the last three years and all of his training has been in Thailand. "I am a professional fighter but I have got a long way to go. My life is boxing and working. I live at the camp. I eat, drink and do everything with the Thais. I sleep in the equipment room," he said. He can earn 1,500 baht a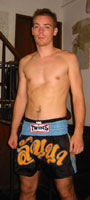 fight, of which the camp takes half.
When asked why he chose to learn muay thai, he answered, "It is the most real martial art. You train to fight. It is about the ring, proving yourself and showing your heart. It is about brotherhood. There is a lot of respect between the students and the teachers."
When questioned about the gruelling training programme he stated, "There are days you wake up and ask yourself 'Why am I here?' but it is like going to school. You make the most of it, have fun, learn and try to achieve something." He's already had fourteen fights, broken a knuckle and received fourteen stitches in his face. "You tend to have a lot of walking problems after a match!" he declared.
When asked about the motivation for farangs training at the camp as compared to Thais, he stated, "You might already know this but most of the Thais don't really want to be here. It is a choice in a limited life route. They can farm, work at a factory or become a muay thai fighter. The foreigners are here for the fun. The Thais are here for the money. The biggest difference between the Thais and the foreigners is the fact that the Thais have no fear when it comes to the fight. They have been brought up around it."
When questioned about their muay thai experiences, Choun answered, "I have fun. I make money. No muay thai means no money." Somphong chimed in, "It hurts a bit!" Jono replied, "I love it