It is a rough job being a pedestrian in Bangkok and November 25th, 2001 marked the beginning of something that sounded like a good idea: turning the famous traffic-clogged streets of the Silom area in downtown Bangkok into a car-free and pedestrian-friendly area. This campaign intended to promote tourists and locals alike to spend their weekends in the city and save energy and reduce harm to the environment by doing so. Special activities were arranged for the seven weeks of car-free celebrations and included everything from martial art displays, ballroom dancing, bike rallies and shopping events. Silom Road was now to be officially known as 'walking street' on Sundays.
This idea caused quite a stir for a while. I heard people making plans for taking a walk on walking street long before I turned up and did it myself. When I did, I certainly was not the only one planning on having a nice Sunday stroll. Call this my December 30th, 2001 failed experiment.
Silom Road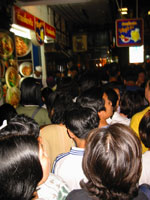 is usually a disastrous mess of taxis, tuk-tuks, exhaust fumes and an occasional elephant thrown in for good measure. These were all missing, true, but instead about 10,000 human bodies stood in for each missing non-Sunday feature.
Off I went sailing along in a sea of bodies so deep it was hard to catch a glimpse of the roller blading performance, vendors and street musicians. Typically mellow Bangkok pedestrians were all forced to elbow their way through the crowd and even the most trusting of souls held on tight to their wallets and pocketbooks. Ever so slowly maneuvering through the herds of people became overwhelmingly exhausting.
I decided to escape Silom Road by hopping onto the skytrain. Lines for those needing to purchase tickets for the ride ranged from 25-39 individuals in length. I was smartly already armed with a skytrain pass.
There has been no mention of whether or not 'walking street' will continue offering itself as a pedestrian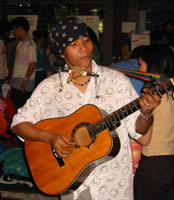 paradise on weekends but trust me, standing on a double traffic line for a few hours is probably more fun. They already have 'I Survived Bangkok Traffic' bumper stickers for sale. I am seriously considering going into the 'I Survived Walking Street' T-shirt business. Another one of my recent pedestrian mishaps involved the extended pedestrian bridges near Lumpini Park. I was convinced I would discover a wonderful new short cut as I enthusiastically climbed the stairs for the first time. Unfortunately, I must have done this later in the evening than officials expected. It turned out that all of the exit ramps had been locked. Being my bull-headed self I refused to turn back and ended up clocking several miles before eventually finding an unlocked exit staircase. Truth said, it was an excellent walk and provided peace and quiet plus bonus views of back street residential Bangkok life from above. I would go for another spin on this pedestrian bridge before I would take on walking street again, no doubt.
I also continue to discover that several of Bangkok's short pedestrian bridges are suspiciously wobbly. Pay attention while crossing these. If you get the sensation that you are out at sea, it's not just in your head. Another friendly warning: don't forget to watch out for the rearview mirrors on the big tour busses while walking on the edge of sidewalks. They stick out more than you think and one almost took my head off last week. Also please avoid an accidental fall into concrete canals running alongside roads. What is in them might look like primordial soup, but indeed it is a form of water.
Last but not least, New Year's Eve found many a pedestrian, including this one, stranded in downtown Bangkok. As the festivities died down, people tried to make their way out of the cramped city only to find that the taxi-to-passenger ratio was alarmingly in favour of the taxis. I waited with throngs of people for hours as full taxis went zipping by and empty taxis simply decided to not to stop.
Due to a mini-traffic jam, an empty taxi slowed down in front of me. I seized the opportunity to literally dive into the back of it. When given my address, the not-so-smiling driver proclaimed, "I am not going there. I am going to Siam Square" to which I replied, "No, not to Siam Square please, to my house. I am tired!" He decided to drive to Siam Square to test my determination. We pulled in and sat in a parking lot for a bit. I won the battle of wills by not getting out. He started laughing at me as we began heading in my destination and continued to giggle for most of the ride home: an interesting beginning to the year 2002, as predicted.