Last week we talked about my 'good' trash. That now leaves us with my cans, bottles, newspapers, and cardboard. I know none of it is here when the garbage men come, so I asked my maid Sai what happens to it all. To my surprise I got the answer, "We sell it."
I decided to follow the journey of my sellable garbage. This led me to a 48-year-old woman named Wanpen. It turns out she comes to my house about once a month. She is one of many trash collectors in my neighbourhood but she pays better than most.
I talked with Wanpen as she weighed out my recyclable garbage. Both she and her husband have been collecting trash for the last nine years. They each make about 200 baht a day (5 US dollars each). They have two children ages 20 and 12. The oldest child works as a repairman and the youngest is still in school.
Wanpen and her family live on a small plot of land that they rent for 2,000 baht a year (50 US dollars). They have constructed a small bamboo and metal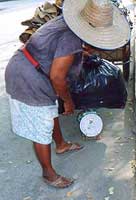 sheeting hut for themselves and have no running water.
Wanpen never went to school. She was the oldest of five children and took care of her siblings when her mother died and her father remarried. "I cannot read or write but I know money!" she says with a smile as she lists her buy and sell prices at rapid fire.
"For six empty big bottles of Singh beer (brown glass), I pay 50 satang and sell them for 70 satang. Six big bottles of Chang beer (green glass) are bought for 2 baht and sold for 3 baht. One kilogramme of aluminum cans is purchased at 25 baht and sold for 30 baht. One kilogramme of newspaper is bought for 1 baht and sold for 1.50 baht. Cardboard is purchased at two baht a kilogramme and sold for 3 baht. Brass is purchased at 30 baht a kilogramme and sold for 35 baht. Copper is bought for 30 baht a kilogramme and sold for 40 baht. Plastic is purchased at 4 baht a kilogramme and sold for 5 baht or 5.50 if I am lucky."
For reference, about 40 baht make one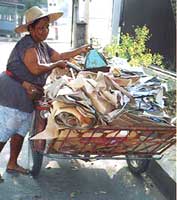 US dollar and 100 satang make one baht. One kilogramme equals 2.2 pounds. Basically, Wanpen averages between 50 satang and 5 baht per kilogramme of trash sold (1 to 12 cents).
If a television or old appliance is left out on the street, it is broken apart and stripped of any valuable material it may contain. The best items she has found in the trash so far are, "Sunglasses, clothes, and once a small piece of gold."
She fills up her cart at least two times a day and then brings it about 10 kilometres up the road where the stuff is weighed, purchased, dumped into gigantic containers, and resold to a recycling company.
At first glance, recycling looks like it is doing quite well here in Thailand. Unfortunately, this is only the case for useful or cash-gaining items. The things that are of no value to anyone very often just get placed in heaps by the side of the road. Plastic is usually overlooked because one must pick up a lot of it before reaching one kilogramme of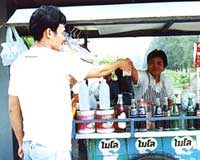 weight.
In Thailand recycling is done mostly out of economic drive. If there is not a baht or cent to be made from recycling something, you can pretty much just forget it. Many people are so busy simply trying to get enough money together to feed their family that a personal environmental agenda is obviously not a priority. For me this does not mean one should throw in the towel or throw the towel out.
There are poor families in my neighbourhood who cannot pay for their garbage to be collected. About every two weeks they have a 'burn the trash day,' which makes for one big stink. Our garbage men charge 40 baht (1 US dollar) a month for their service.
Don't be surprised when you order a soda from a roadside vendor and they dump it into a small plastic bag with a straw sticking out of it. The sellers want to return their bottles. Also don't be surprised when you order food from a take-out counter and it comes in big Styrofoam containers. I tried to outsmart this system by bringing along a gigantic plastic container. The guy simply placed the Styrofoam box into my plastic box and gave me a smile.