Thailand is famous for its stunning traditional architecture. More modern forms of architecture include the brave and beautiful, the bland and functional and last but not least, the ultimate in bizarre. Bangkok's cement jungle boasts and hosts some of the strangest visions out there.
One of the more famous ones: The Elephant Building. Upon first looking at this strange structure, there is a feeling of awe and shock. The building comes complete with fully functional office space in the tusks and ears. The final touch is the humongous aquarium-like glass eyes. I have always wondered if there is office space in the eyeballs, too. Not an office to be assigned to if you are afraid of heights and don't like washing windows.
The Elephant Building is on Phaholyothin Road in Chatuchak District. It makes a superb landmark once you get lost and want to get heading in the right direction again. This wonder was completed in 1998, is a 32-story structure and boasts full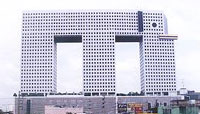 capacity. Believe it or not, people don't only work in this building but live in it too! Perhaps Christo should come to Bangkok and wrap The Elephant Building in some plastic. I'd be the first to show up and watch.
Another Bangkok hum-dinger is The Robot Building. Yep, it is a fully functional office in the disguise of a robot and can be seen poking its head up on Sathorn Road. Not only does it come complete with antennae, eyes, ears and wheels but is also the headquarters for the Bank of Asia. The Robot Building hit the scene in 1985. It is only a 20-story high structure and its bolts and wheels not only look cool, but they also provide shade from the sun.
With a building like this already in existence I must wonder. If an alien ship parked in Bangkok, would it be noticed right away? And would the aliens try to communicate with this building?
With these two (in)famous structures setting the tone, you can imagine the other goodies you can stumble on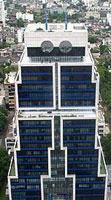 while driving in Bangkok. My greatest off-the-beaten-track find and personal favourite: The Love Boat. If you are driving up on the expressway heading east from the Rangsit area, you can look down and see an actual cement rendition of 'The Love Boat' itself.
Inspired from the romantic TV show sharing the same name, this boat also rents out rooms to those enjoying its 'massage parlour' services. Getting a good picture is not possible due to the threat of being flattened by oncoming cars on the expressway but I must wonder what the Captain would think about this one.
Another architectural wonder in Bangkok is in the Muang Thong Thani area. A drive through this village is guaranteed to leave you scratching your head and wondering where all the people have gone. This was intended to be a gigantic skyscraper housing development but it ended up going bust during Thailand's financial crisis. The long row of bleak gray towers look finished from a distance, but once you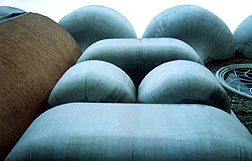 are actually in the area you will end up waiting for some tumbling tumbleweeds or wondering if a small war took place in the village. It is downright eerie.
I spent today looking for a building that is said to resemble a wedding cake on Soi 55. Well, I did manage to find one building with lunar qualities whose balconies looked like upside down gigantic fruit bowls of various shapes and sizes. And another building with a dragon exploding out of the front of it. On the drive home I marveled at all of the incomplete bridges and expressways looming over my head. I looked in the sides of incomplete skyscrapers. The wedding cake building eluded me but the hunt for it was more entertaining than expected.
If you enjoy wacky structures, Bangkok is a gold mine. If you tire of looking at the architecture, how about paying attention to all of those TV antennae left up on all of the roofs after the city subscribed to cable. You could make a fortune salvaging them if you were crafty and could find a way to resell them.
Strange structures expand beyond buildings. A recent nighttime outing left me standing in a parking lot with two amazingly tall standing figures. A gigantic plywood Elvis loomed on one side of the parking lot and an equally large and foreboding plywood lobster hovered on the other. They were massively illuminated to boot. It was heavenly! I was so impressed I didn't even bother to admire the surrounding buildings. Due to the vast size of this city, I have never been able to figure out where I was in the first place or how to get back to that parking lot but I keep hoping for an accidental reunion at some point. And I always keep my eyes peeled for the next incredible find.