'Bahn Sukaparp' (The House of Good Health) has been offering comprehensive Thai traditional medicine services to its local community for more than one year. The store's windows are filled with a curious explosion of herbs, roots and plants and many a customer can be seen blissfully enjoying a massage. I have yet to see another shop like this one in Bangkok although massage shops and spas can be found on most any block.
I spent an afternoon with the 38-year-old owner, Chonlakorn Chainorang, learning about traditional medicine. Not only is she the shining image of good health and the mother of three, but also a cheerful and warm-hearted person who has the knack for making people feel relaxed around her. Her 22-year-old daughter can be found behind the counter working with mom when she is not attending university.
Thai traditional medicine has developed over the last 2,500 years. It incorporates Ayurvedic traditions from India, traditional Chinese medicine and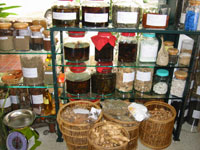 Theravada Buddhist traditions and was originally practiced only on temple grounds. Thai traditional medicine contains four main elements in its comprehensive system: herbal remedies, nutritional counseling, meditation and massage.
Chonlakorn studied Thai traditional medicine for five years and is a certified herbalist. When asked about her herbal remedies, she said, "Thai traditional medicine looks at the whole body and not only one part or organ and focuses on the health of not only the body but the mind and spirit. I spend a lot of time talking to my clients about what their ailment is. Maybe they have a headache at the time but also have trouble sleeping at night. By finding out the entire problem, I know what kind of massage or herbs to provide. The herbs can be taken either by mouth or applied directly on the skin."
Chonlakorn also advises people on their diets. "It is also important for a new mother to eat unpolished rice after birth because it has higher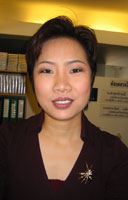 nourishment in it. Herbal foods and eating traditions focus on local vegetables like banana, sugar cane, chili, lemongrass and fruits. Different foods stimulate the body in different ways. For example, if you eat sour food it will help clear your throat and stimulate your secretion system. By eating moderately and healthily you avoid becoming ill."
She also provides treatments to women who have recently given birth. "After birth the mother's skin is washed with boiled herbs and turmeric. This smoothes the skin and prevents infections. She then sits in an herbal sauna, which helps her womb return to its normal shape and stimulates her circulation. This is a long tradition in Thailand."
Traditional massage is perhaps the most well known aspect of Thai traditional medicine. Chonlakorn explained, "Massage is a way to treat sickness. By twisting the body, focusing on pressure points or even massaging yourself, you can make yourself feel better. Thai massage started from people taking care of each other, let's say a child standing on or rubbing the back of an elder person. Over time it evolved into a formal system of medicine. The details of methods have been documented over time and passed down through generations. Temple murals throughout Thailand display various massage techniques. Foot massage is another way to let your whole body relax. Different acupuncture points for every point of your body can be found in your feet. People come here for massage to relax." Bahn Sukaparp also provides books and videos about Vispassana meditation. She meditates for two hours every day and explained, "Practicing meditation helps the body to feel peace and be healthy. Meditation is part of having a balanced life and body. I share this information with my customers because it is an important part of the healing process."
Chonlakorn is a knowledgeable businesswoman and proud of her store. Supporting the local economy, pleasing her customers and preserving Thai traditional medicines and methods are her goals. Her well-stocked shelves are filled with organic shampoos, essential oils, aromatherapy candles, conditioners and herbal health and beauty remedies which are all-natural and produced within Thailand. Customers can be found drinking herbal teas and chatting to the owner before they leave. The store has a profound sense of friendliness and community.
Spending an entire afternoon there only covered the tip of the iceberg in regards to the rich history of Thai traditional medicine. An organic grocery store has recently opened up in the same shopping centre meaning that more health conscious people are certain to find their way into Bahn Sukaparp.
Thai traditional medicine remains popular in Thailand despite the surge in western medicinal practices. Schools offering courses and seminars in its methods can be found throughout the country. For those of you wishing to visit or phone Chonlakorn, Bahn Sukaparp is located on Chaengwattana Road in 'The Family Centre' and their telephone numbers are (02) 574-1669 and (02) 982-7525.