Tucked away on a small street that doesn't get much traffic very near my house is what could best be referred to as a slum. I use this road as a shortcut and am always gazing in awe at the tin ramshackle houses, numerous people who live inside of them and the piles of trash. It was with some hesitation that I decided to head over there and attempt to find someone to interview. When I arrived, six women were sitting on a raised plywood platform tending to children accompanied by five stray dogs and numerous roosters. All but one woman dispersed the minute I stepped out of the car. Surprisingly, I was a hit with the dogs.
It was 45-year-old Bayong Yamsang who sat giving me a stoic stare. I was surprised when she agreed to have a chat with me. Bayong has lived on the same plot of land for the last thirty years. Before that, she lived in Ayutthaya. She is the mother of four children, ages 3, 13, 19 and 21. All of them live at home with her and the eldest works as a fulltime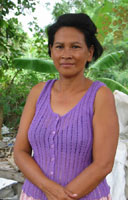 babysitter for 4,000 baht per month.
Bayong's husband does not stay with the family but rather travels around after construction jobs when he can find them. He can earn 200 baht (US$4.50) a day when he finds work. He comes home every fifteen days and they have been married for 30 years.
Bayong used to work as a construction worker also but hasn't been able to find steady work for the last three years. "I'll do anything for work but it has to be near this village so that I can take care of my children. I make some money doing laundry for people now but I used to help build houses. I carried concrete. They paid me fifteen baht a day when I started doing it thirty years ago but the last time I worked, I got 150 baht (USD$3.50) a day. Everyone that lives around here knows I need a job. They will tell me if there is something. And I still go looking for work. When I find work, the children will take care of themselves but I need to check in on them."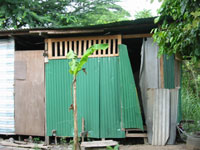 When asked which house belonged to her, she pointed to a small tin shack and explained, "An organization gave me money to help build the house. It is a charity run through my son's school. They bought the roof for me and gave me some baby clothes and 500 baht (USD$11.50). They also help pay for my son to get to school and for his lunch."
The bleakness of the dirt lot in which we were sitting and the number of bugs that were swarming on me is probably what caused me to ask her what she likes to do for fun. She responded, "I like to listen to music. I don't have a stereo but my neighbours do, so I listen to theirs when they turn it on. The people that live here get along with each other. There used to be some people taking amphetamines and sniffing glue but the police arrested them."
When questioned about her education, Bayong stated, "I only went to school for two years. I can't read at all and I can hardly write. I would like to learn, but my IQ
just is no good. I might be not be very bright but I can work."
She does not pay any rent for the land that she lives on, does not have running water but does have electricity. "I buy it from a neighbour. They charge me eight baht a unit but it actually costs them three baht a unit. My electricity bill is around 500 baht (USD$11.50) per month," she explained. She spends a total of 50-60 baht (USD$1.15-1.25) a day feeding her family and elaborated by stating, "There are a lot of fruits and vegetables around here. I collect them. Sometimes there are so many that I have enough left over to sell some. Besides that, we eat rice and sometimes some chicken."
She and her family share a small plot of land with seven small shacks on it directly across from one of the biggest and most decadent houses I have ever seen in Thailand. It rivals a European castle, in fact. When asked her thoughts on this house she said, "All I know about that house is that we can not go near it. The man that owns that house is not Thai, but I don't know where he is from. I know that he is not nice!"
To take a tour of Bayong's house and learn more about her daily life, tune in next week.