In this great concrete jungle known as Bangkok you may be surprised to know that there is an absolute abundance of stunningly gorgeous flowers for sale at unbelievably low prices. Visitors usually rant and rave about the variety and bargains and more than a few people go to catch planes toting large bunches of flora with them. Many that live here invest in a small army of vases and keep them filled to the brim. Hotel lobbies boast some of the most outrageously large and artistic floral arrangements around.
Cut flowers can be found in stores, on the street and also get carried into restaurants and bars by hawkers. Flowers, flowers and more flowers provide visual and olfactory relief while walking the streets and hey, just about everyone loves looking at them.
The busiest and most famous of all flower markets is located in Chinatown near the Memorial Bridge. Things kick off at about 4 a.m. as fresh flowers come in by the truckload. They are sold in the cramped and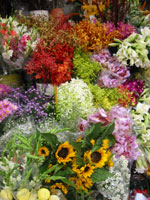 bustling Chinatown flower market and also whisked off to other parts of the city. A stroll through this market will definitely open up your eyes, be it at 4 a.m. or 4 p.m. You are almost guaranteed not only to get your feet driven over and stomped on several times in the crowds but also to walk away with many more flowers than you ever planned on purchasing.
I recently visited a smaller less chaotic flower market on Sukhumvit Road in Bangkok where I talked to a very cheerful 25-year-old flower vendor named Nun. She has been selling flowers for the last five years with her sister-in-law. Unfortunately for her she works right next to one of Bangkok's busiest, loudest and more polluted roads. When asked if she likes her location, she said, "No, but I don't have a choice. It is a busy street but that means it is good for business."
Prices at her stand were very reasonable. A large arrangement of orchids cost 50 baht (US$1.14) and fragrant white lilies were only 150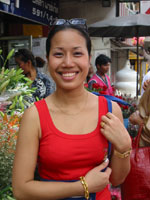 baht (US$3.41) for five stems. Birds of paradise cost 50 baht for one stem and roses were 50 baht for ten.
Nun works from 8 a.m-6p.m. every day and averages about 500 baht per day in salary (US$11.36). She was born and raised in Bangkok and is the single mother of a four-year-old daughter. "My mother takes care of her while I am at work. I don't live with my parents. I share a one-room apartment with my brother, his wife and three other people." The total rent per month is 5,000 baht (US$113). They share a television and she has a mobile phone.
She likes her job very much but told me, "I would like to go back to school but I don't have the time or the money." Nun finished high school and speaks excellent English. When asked where she learned it, she explained, "I only studied English a little bit at school. I learned English here at the flower stall. I talk to customers every day. I like talking." In her spare time Nun enjoys shopping, watching movies, playing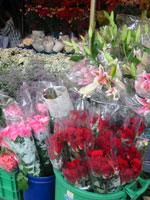 games and talking with her friends. Her dream for the future is to someday have her very own flower stall.
Her boss' shop is open 24 hours a day, seven days a week and the flowers get delivered from Chinatown early in the morning. Most of them are grown in Thailand but some come from Holland. The mark-up for Thai flowers is about 50% and for imported flowers about 30%. If they have a very busy day, her boss pays her a bit more. Valentine's Day was a busy time. When asked about this holiday, she told me, "Roses were much more expensive. We charged about three times more than usual. I like Valentine's Day and I like selling flowers because I get to see people being happy and enjoying life."
Nun did not have a Valentine this year. "I am looking for someone. I want a man who does not fight and does not run around with other women. This is not easy for me, especially because I already have a child. It is not easy for anyone, I think." When asked what she would do if hypothetically given 5,000 baht (US$113), she responded, "Put it in the bank for my baby. Definitely not spend any of it."
Out of all the flowers she sells she likes lilies best of all. "They are just so beautiful!" she told me with her bright smile. Nun seems happy with her life and fits right in with the flowers she sells. She is a natural saleswoman if you ask me and seemed quite content with her life.