I set out to interview a friend of mine who works as a film director and was told, "There is someone much more interesting for you to talk to here." It turned out to be a 48-year-old man named Pam who was more than happy to have a chat.
He is currently the director of a weekly Thai TV series called 'My School.' He explained, "This show documents very remote small schools in rural Thailand and tries to get funds to support these schools and funds for building new schools. Last year we managed to build five and this year we will build seven." He also has worked in the past as assistant director for several Thai movies.
When asked about his salary, he explained, "I don't get paid; I volunteer. I usually spend 8-10,000 baht (178-222 US Dollars) per trip on gas, food, and lodging. I make commercials for my income. My money depends on how many commercials I can make. It used to be much better. I used to make three commercials a month, now it is only one in two months.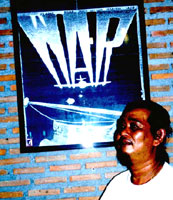 I make commercials about social issues, life in the countryside, pickup trucks, but not about makeup," he explained.
Pam is a very active man. If he is not volunteering he is working. He was extremely vague about his personal finances. My hunch is that he is quite wealthy although you'd never guess it from looking at him.
Pam is the also the manager and part shareholder in a very large and new pub on Thanon Kasetnavamin Road in northeast Bangkok called 'Bahn Tawan Daeng' (Red Sky House). This is but one of several country saloon-style pubs in the 'Tawan Daeng' chain which are scattered throughout Bangkok and sharing the same logo.
He lives in Bangkok but also spends time volunteering for the Khao Yai National Forest and the Foundation for Lanna Artistes (which organizes grassroots theatre about social issues in the North.) He told me, "When working outside of Bangkok, I drive a Jeep Cherokee but in Bangkok I drive a Mazda MX-5. But I am not rich from my pub. I had money before. I can afford to eat different kinds of food. I am not in financial trouble. I can help other people financially but I don't have a life of luxury. I feel rich in my heart when I can help people and build schools."
When asked about his marital status he stated, "I almost got married three times but all of the women decided that I wasn't good enough to get married to. I don't have any children." Pam was far more interested in talking about politics than talking about his personal life.
He was a student at Ramkamhaeng University and was involved in a theatre performance at Thammasat University on October 6, 1976 when the Thai army moved in and started shooting at the leftist students. lAs he ran away, he was shot in the leg and was later arrested for revolt???. He showed me bullet entry and exit scars on his thigh and illustrated that he cannot move his left foot up or down. For more information: http://www.bangkokpost.com/en/061001_Outlook/06Oct2001_out77.html
When questioned as to whether he considers himself a highly political person or not he explained, "I am interested in society but if you offered me a job in parliament, I would say 'No! No! No!'"
His opinion about the current situation between the United States and Afghanistan is: "No wars are ever won. There is nothing good about war in general." When asked what side he would choose at the moment he replied, "It is difficult to say or choose because every war is bad. Many people in Thailand see Afghanistan as being a small poor country and America a big rich country that can send missiles that cost millions of dollars. Thailand and other small countries in the region like Cambodia, Laos, and Burma could possibly see the situation as being unfair."
When questioned about Thailand's present government, he told me, "It looks like this government should be good for the population but there are many commercial interests involved and sometimes it looks fishy. Many people think that the present government benefits the rich people and not the poor. Now we have to close our pubs and entertainment venues at 2 a.m. and not 4 a.m. This means less income for the owners and staff. Having a new structure for Thai society could be good but it doesn't have to be like Singapore in Thailand."
When asked what he would do if hypothetically given 5,000, baht he stated, "I would give 2,500 baht as an education fund for my friend's son. His father, Jaran Manopetch recently died. (A well-known singer in Thailand: http://www.bangkokpost.net/040901_News/04Sep2001_news06.html) The other 2,500 I would give towards the school that we are planning to build in Isaan."