Thailand's streets are bursting with vendors selling an incredible variety of food. One of the more famous and more popular of Thailand's dishes is 'som tam,' also known as papaya salad. Som tam is made with green papaya, garlic, chilies, tomatoes, fish sauce, green beans, roasted peanuts, palm sugar and lime or tamarind juice, all of which are mixed together using a pestle and mortar. Ingredients and spiciness vary a bit from region to region and also from vendor to vendor. Som tam is served cold and usually accompanied with a portion of sticky rice.
Som tam is one of Thailand's staple dishes and there is no shortage on people just waiting to sell you some. The sound of the pestle and mortal clunking together as people make som tam is a familiar one and also gives this dish its nickname, 'papaya bok-bok.' I recently strolled through a street packed with food vendors and decided not to choose whom I would interview, rather follow the first 'bok-bok' sound I heard to the
person who was making it. In but a few minutes I'd followed my ears to a pleasant husband and wife team who were making som tam hand over fist at 1 p.m.
Jangtong (38) and Sumbat Meechai (40) have been selling som tam in Bangkok for one year. They came to the city in search of work and are from Isaan, Thailand's eastern and poorest region. Before becoming som tam vendors in Bangkok, they were rice farmers since they were small children "We made no money," Sumbat confided in me. Both attended school for a total of four years and know how to read and write.
The couple seemed overwhelmed by the city and both were very shy. "This is our only job. We work together all day. When we run out of ingredients for the stand, one of us goes to the market to get more. We like our job," said Sumbat (who was too bashful to have his picture taken.) They have three children ages 15, 11 and 8 and all are being raised back home by Jangtong's brother. When asked about how life in the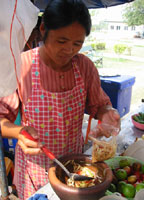 big city was going, the response was lukewarm. "Not good and not bad. We want to go back to Isaan."
The couple lives in a small shack near their vending spot. Rent is 1,000 baht (US$23) a month and the water and electricity bill is 90 baht (US$2). They own a fan and a small radio and cassette player. When asked about how much money the couple spends on food each month, Jangtong said, "It is difficult to say. We don't buy food, we eat what is left from our vending cart." They get up at 7 a.m. every morning. Then they head to the local market to buy produce for the som tam stall at 8 a.m. They proceed to set up their vending cart and are open for business from 11 a.m. to 11 p.m. seven days a week. They empty the cart and leave it in its vending spot overnight, go home and are in bed around 1 a.m. When asked if she is tired, Jangtong sighed and said, "Very!" After over 15 hours a day of work, she should be.
The initial investment into the vending cart was 20,000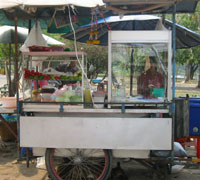 baht (US$454). The cart, glass cases, table, six plastic stools, pots and pans and cooler were all bought second-hand and all were more than a bit tattered and dirty looking. When asked how they got the money, Jangtong smiled and said, "We sold four water buffalo in Isaan. Then we came to Bangkok and bought all of the things we needed to sell som tam."
One serving of som tam with sticky rice costs 15 baht (US$0.34). The couple averages about 700 baht per day (US$16) profit or 21,000 baht (US$477) per month. They serve about 130 people a day.
When asked what they like to do for fun, Jangtong replied, "Listen to music" and Sumbat said, "Listen to the news on the radio and sometimes sing songs." If hypothetically given 5,000 baht, Sumbat would, "Invest in the som tam stall. Buy something else that I can sell here like soft drinks or other kinds of food."
The couple pinches every penny and lives a very humble life. When asked what they are doing with their profits, Jangtong said, "Everything we can save we save and it goes to the bank. We want to build a new house in Isaan and we want to save money for our children's education. We need to stay in Bangkok so that we can get money." Long working hours, frugality and people lining up waiting for some of their delicious som tam will be the key to this couple's continued success.