On a Friday night I met up with members of the private non-profit organization 'Foundation for the Better Life of Children.' Project Coordinator Mr Sitiporn Tamniamnjam had invited me to come along with the group. Their aim is to encourage children to get off the street and into the foundation's shelters. The organisation has been operating for the last thirteen years and has eighteen full-time employees and five volunteers, all of whom are former street children themselves.
Mr Sitiporn told me, "We work from 10 am until 6 pm or later because the kids wake up late. Most of them have left home because of domestic violence or because their parents have been arrested and they no longer have a home. All of the kids sniff glue. Some of them take amphetamines. Three years ago there were about 14,000 children on the streets and that number has increased dramatically."
When asked what members do to help the children he said, "Our organisation counsels the children. We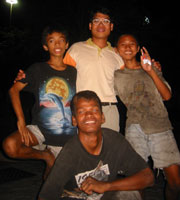 try to find the reason why they are on the street and give them encouragement to change their lives. We try to educate them. The children move around the city so we go to different locations looking for them. We try to get them to stay at the shelters but most of them want to be on the street with their friends. Many of them end up working as prostitutes to get money."
At about 7 pm we arrived in a park near Memorial Bridge on the Chao Phraya River. The children recognised members of the group and quickly gathered around. Most were filthy and high from sniffing glue. Snacks were organised and the kids ate ravenously. All of the street children were male. "Thai culture teaches females that it is dangerous to be alone. Female victims of domestic violence will choose to live with relatives rather than face the dangers of the street. If the girls do leave their families, they turn to prostitution. This satisfies their financial needs so that they don't have to live on the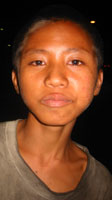 street," an organization member explained.
A young boy agreed to talk with me about his life. Joy, which means 'small' in Thai, has been living on the street for the last two years. When asked his age, he had to think for over five minutes before he hesitatingly replied, "Fifteen." He was high on glue when I spoke to him, partially incoherent and distracted.
He told me, "My house is near here but I don't want to stay there. I don't have a happy family so it is better to stay out." When asked how he spends his days he replied, "I ask for money. I sleep anytime, anywhere. I get about 100 baht (US$2.27) a day. I buy food and glue." Glue costs five baht a container and provides, "uncountable hits" according to Joy. When asked about his glue habit he stated, "I started sniffing glue about one year ago. I just wanted to try." When asked if he wants to stop sniffing glue he answered, "No idea."
Joy said he would sleep in the park that night and explained, "I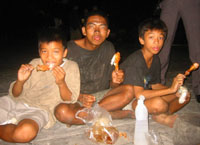 used to go to the shelter but I wanted to be with my friends. Sometimes I sleep at nightclubs. I think of going home sometimes. I know how to contact my parents. I have a step-mother and I have a sister. My father has three wives and he has a lot of money. He sells diamonds." Joy was unsure of the age of his sister.
For fun Joy likes to play football and swim in the river. If hypothetically given 5,000 baht (US$113) he would buy a bicycle, a shirt and a bag. "A bicycle is definitely the thing I want the most. Someone gave me 1,000 baht once. I bought a lot of noodles with it," he said.
Joy says he can read a little but he cannot write. To get money from tourists he uses the English sentence, "I am hungry. I have no money. Five baht." When asked what he wanted to do with his future he responded, "I want to be a chef. I know how to make fried eggs and rice."
As Joy's friends walked around the park sniffing glue out of plastic bags and playing with each other, he became more and more distracted. When asked if he missed his family, he said that he did not know. To the question, "Are you happy?" Joy responded with an emphatic "Yes!" and added, "I don't need help."
Joy left to join his friends. They were enjoying the company and were absolutely fascinated by digital pictures of themselves. Spirits were high and glue bags were full. Darker moments are certainly waiting for these children.
To contact 'The Foundation for the Better Life of Children' call Mrs Rattana at 02-574-1381.