I met Nattawud Daoruang via email about three months ago (his friends call him Gor). This 15-year-old Thai student asked me to check out his website http://www.thailandlife.com. The more time I spent on his site, the more awestruck I became. Over 300 pages and 800 pictures give a comprehensive, honest, and professional overview of this teenager's life and culture.
Topics include fast food, teen pregnancy, a virtual tour of a Thai city, a Thai wedding, Nattawud becoming a novice monk, plus a secret diary, to name but a few. Put simply, his website rocks! Before reading on, I urge you to take a moment to see for yourself what Nattawud has accomplished.
Nattawud and I decided to meet up so that we could learn more about each other by swapping interviews. Waiting for me was a slightly shy and very earnest young man.
His website started in 1997 with a humble three page beginning. The goal of his website is: "To show my life in Thailand and that it is not different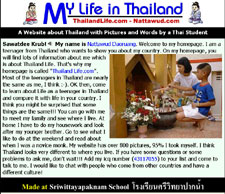 from other teenagers' lives. To let people know that we all don't live in the jungle, or ride elephants to school, and that we have TV. I got the idea for it during summer vacation. My friend and I were bored. We started to play on the computer. I designed my own homepage."
He gets his inspiration from…"all of the email I receive and the reporters that visit me." I am definitely not the first person to have their eyebrows raised by Nattawud's abilities and personality.
According to Nattawud, the biggest problem facing Thai teenagers is boyfriend-girlfriend issues. He says that his generation "…has more freedom and more technology. In the past girls and boys could not go out together." His secret diary has many insights into dating rituals although it is in fact a secret to most. He does not want his parents or teachers to read it. The fact that it is written in English does help keep it confidential in a way, and his open discussions on dating have received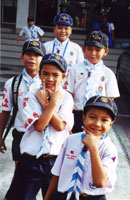 criticism. When questioned about all the tourists that visit his country he stated, "Most of them do not know about Thailand. They think only of jungle. Then they go back home saying Thailand is great and beautiful. I feel strange when I see backpackers. We don't have backpackers in our own country. Sometimes they are acting the wrong way. They should wear more polite clothing."
When asked his opinion on 'Kat's Window on Thailand,' he stated, "It is interesting. I read about the bed. I think it is a good story because it can teach other foreigners to be calm."
The majority of his Internet traffic comes from America. When he hears the word 'America', Nattawud thinks of: "Freedom. American teenagers can do what they want. And snow. I would like to become an exchange student there. I am interested in western cultures but they all seem the same to me for now."
Nattawud hopes to be a diplomat or an ambassador someday. When asked if corruption and vote buying within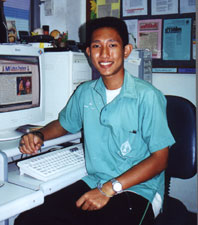 the Thai government was O.K. he said, "Of course not!" His solution to the problem would be for all people to take the money from the candidates but not vote for them. "I think if the government cannot fix its own problems, then it can not fix the problems of the people."
When asked whom he admires the most, Nattawud stated, "Richard. Without him I could not do it." Richard is the head of the computer department at the private Sriwittayapaknam School (http://www.sriwittayapaknam.ac.th/), which Nattawud formerly attended. This school has the largest Internet presence in Thailand and hosts 29 dot com websites.
The future seems intensely bright for this clever young man. Despite his talents, at the end of the day he is just an average teenager like the rest of his friends. He enjoys watching football and his favourite team is England's Liverpool, not Manchester United like most Thai football fans.
As written on his homepage: "I want you to know about the real Thailand. This project is never-ending. I will continue to update over the next 10, 20, 30 years or so. Keep coming back as in the future you will be able to see my graduation from school, first day at work, my marriage, birth of my children, their first day at school…" Welcome to the new wired generation of Thailand!
I know I will continue checking in on Nattawud. Being only one of 290,183 visitors to his website, I am certain not to be the only one waiting to see what the future holds for this talented young man. When I left him at 6 p.m. he planned to stay and work on thailandlife.com and his other seven websites for four of five hours.