I recently drove to Suphanburi province, about two hours north of Bangkok, to a temple fair at Wat Srisant. The temple was hard to find because the locals knew it by its nickname, Wat Plaek Mae, and it was out in the middle of nowhere. It seems that not only everyone but everything has a nickname in Thailand.
Driving through small and unsigned country roads to get there, I became convinced either that there was not much going on or I had arrived on the wrong day. I had almost given up all hope when suddenly I spotted a great glow of neon light rising up from the fields. I had made it!
Temple fairs always surprise me. Not only because of the crowds they draw but also because of the events that go on at them. When I first heard of temple fairs, I pictured a somber environment. Wow, was I ever wrong. Temple fairs are festive events offering a vast array of entertainment and shopping options.
Buddhist temples are the centres of society for Thailand's 95% Buddhist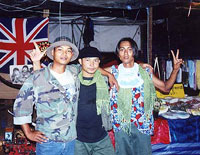 population. Events that I would picture happening elsewhere simply take place at the temple. Temple fairs are an amazing combination school fair, county fair, religious fair, flea market, amusement park, movie theatre, bingo parlour, cultural event, farmer's market, and rock concert all rolled into one. The goal of the fair is to raise money for the temple, conduct religious activities, and provide a good time for all
Temple fairs generally last from three days to two weeks. They are held both in conjunction with Buddhist holidays and when an individual temple decides to have its own fair. The temple raises funds through donations and also by renting out space to the hoards of vendors that come to sell their various wares or entertainment.
Most of the formal religious ceremonies take place in the morning when the people bring food to the monks. At night monks recite the tales of the Lord Buddha's life and may perform chanting ceremonies. There is a large waiting line to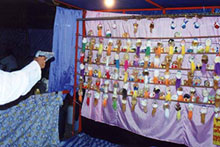 get into the temple and pay respects. The temple really is the hub of the fair. Offerings of joss sticks and flowers are made to the Lord Buddha and the monks usually hand out small Buddhist amulets to the people. Monks can also be seen walking around and enjoying the fair and sometimes you can even spot them in the small ferris wheel.
The vending stalls sell everything under the sun. Roosters, plastic toys, clothing, dishes, beds, furniture, food, shoes, alcohol, knives, alarm clocks, soft drinks, vegetables, jewelry, posters, fruit, and school supplies all can be had for very low prices.
Games of chance are very popular. Bingo, shooting stuffed animals off the shelf with a bb gun, throwing hoops at bottles of Coke or whisky, roulette-like number games, and water pistol racing games prevail. After games of chance you can go for a ride in an antiquated ferris wheel, ride the bumper cars, or take a spin on the merry-go-round.
The assortment of food available is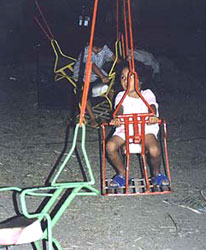 amazing. Noodle soup, rice dishes, curries, fried bugs, grilled chicken, pastries, candy, vegetables, and seafood are all on hand. Tents are set up and table and chair seating is available as well as the walk-while-you-snack option.
There are also concerts given by well-known bands for an admission fee. If the entry fee is not affordable, there is also a huge movie screen as a back up entertainment source. I have seen this screen being used in two ways, either showing the concert taking place or showing a movie, in both cases for free. Traditional Thai dancing, theatre, and music performances also take place at no charge.
No matter what your interests are, you are bound to find something both affordable and fun at the fair. I enjoy watching the children carrying balloons, which can be up to three lengths their height. I also enjoy looking at the amusement park rides because they are very often either very old or are homemade gadgets. There is excitement in the air. Many smiling faces walk by. I like weaving in and out of the crowds. I am always uncertain about what may be around the next corner and I am always surprised at what is waiting there.
I like fairs of all shapes and sizes. I like the sense of community they bring with them. Everyone gets together, has a good time, shares a story, and has a laugh. It is easy to make a new friend or have a nice chat. I particularly like temple fairs. I like the fact that I can come home with a live rooster, a stuffed animal, or a head of garlic.