As decadent as it might sound, having a maid in Thailand is common. My maid even had her very own maid until last year. Sai lives at my house with her two children and her husband. Sharing premises with a Thai family is a source of endless amusement and confusion. Sai makes sure my stereo doesn't get stolen and keeps the house tidy. But more importantly, what her family specialises in is cracking me up.
I have the pleasure of listening to them karaoke the night away, observing family naps on bamboo mats throughout the lawn and watching the kids fly by my windows on bicycles. Sai and her family come from Isaan. This means they speak their own dialect of Thai, love Laotian music, cook the spiciest dishes known to man and have relatives visit for long periods of time (either while looking for work or due to illness).
They have also brought many a rooster into my life over the last two years. Sai's husband, Chartchai, always has a convincing story as to why they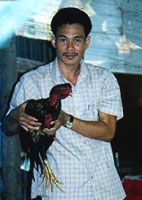 must take up residence with us.
Chapter One: "My mother is too sick to go feed the roosters. The roosters don't stay at her house because she doesn't have enough land. She has to travel to feed them. It is too much work for her. I am going to sell most of the roosters, but I want to keep my two favourite ones here." It sounded reasonable so I said O.K. I'd already taken in 'the favourite duck' from Isaan and absolutely fell in love with it. Roosters? Why not?
The pickup truck roared off on a rooster rescue mission; a seven-hour drive each way. It returned with two fine looking birds. As it turned out one was a female and one was a male; you know what that means. About twelve other brown dove-looking birds had come along for the ride and were eventually released. Surprisingly, most of them either returned to the yard in the evening or stayed in the yard all day.
A few months later papa rooster and wife had produced a large number of baby chicks. My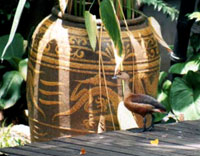 yard was clucking, peeping and cockle-doodle-doing away. The family of birds ate everything in sight. Eventually I said that the roosters and family either had to go or had to be fenced in as my yard looked like it had been victim of a long drought. Off they all went on another joy ride back to Isaan. It turned out that mom was well enough to feed them again.
Chapter two: "My friend is moving into a new apartment with no yard. He has six roosters. If I don't take the roosters, they probably will end up as dinner. Can they come live with us?" Oh, the poor birds! They all arrived via motorcycle taxi a few days later. The yard was back in full swing. I resigned myself to living in a rooster zone. Eventually these roosters went to live with mom in Isaan after the yard somehow managed to look even worse. I had a few weeks of peace. During this time the duck disappeared. I had quite a crush on him.
Chapter three: A mysterious rooster disease struck Isaan putting all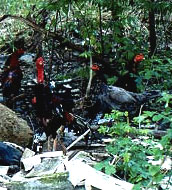 birds at risk. Probable financial losses were explained to me at length. The favourite rooster and the other favourite rooster had to be saved. Oh, the poor birds! They hitchhiked back to Bangkok on a friend's pickup truck. One handsome favourite rooster was sold in Bangkok for US$100 leaving us with but one rooster. "How long will this last?," I wondered to myself. Chapter four: Torrential rains have been pounding Bangkok on a nightly basis recently. My backyard is completely flooded and I am considering purchasing a canoe for recreational purposes. I was wondering how the rooster was fairing in his great lake area. The answer? "Never mind. My rooster goes to boxing school every day." "Oh, of course," I replied.
As it turns out, a motorcycle comes every morning at 9 am to fetch the rooster. He attends boxing camp until 3 or 4 pm in the afternoon. If the water levels are decent, he spends the night here. If not, he has a sleepover with his friends down the road.
Boxing school is free. If someone happens to win a few baht on a practice round with the rooster, they keep it. He must be doing well as he was awarded with a fine looking girlfriend this week, meaning that my fowl numbers are destined to soar rapidly once again.
Our resident rooster (Rodney) will head off to a stadium fight on Sunday. I have been invited to come along. What is everyone going to think if a female 'farang' shows up? Sounds like a possible chapter five to me.